Hey folks,
I am hosting a contest, of sorts. Not to feed into the conundrum of competitivity, but to stimulate creativity and to agitate against "green" capitalism. From the "greening" of the prison industry to the military industrial complex, green capitalist imperialism is still imperialism.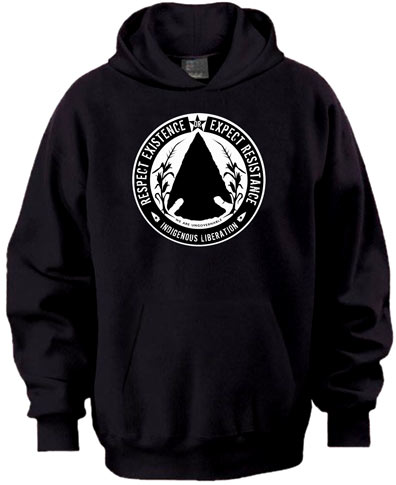 By participating in this agit-prop, you could be awarded a hand silk-screened hoodie such as the lovely one pictured here (in fact this is indeed the one!)…
This glorious prize also includes a book and 'zines of a radical nature and some lovely buttons and patches.
What you got to do:
Express your perspective on Abolishing Green Capitalism in a poem, short essay, drawing, action, graphic design, street art, video, audio, (i.e. any means of creative expression).

Email (or on twitter @eelk or

www.facebook.com/IndigenousAction

both using #abolishgreencapitalism) your entry to: indigenousaction@gmail.com by April 22nd, 2014 at 11:34pm MST.
Selected entry will be announced on April 23rd, 2014. I will be posting the entries on social media so comments and "likes" will be taken into account. If your work/expression is selected I will contact you for details to send your awesome prize. 🙂
Ahe' hee'!
Klee