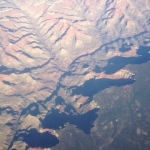 We got off the plane, took a cab to Chinatown, dropped our bags at the place we were staying, and went directly to Vancouver Indigenous Media Arts Festival. As we walked to Woodward's (a massive shopping center) near where the fest was being held, we learned about a squat and other community projects that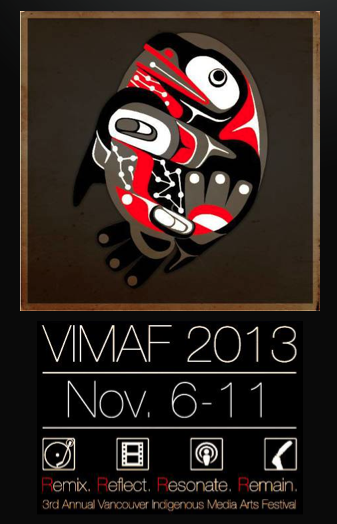 had been evicted. It was clear that the area had quite a history of resistance to gentrification. It was quite absurd to walk up to this colossal building at Simon Fraser University (next to Woodward's) and see a massive 4 story photo recreation of a police attack on protestors.
The first event we attended was a book release party for Sovereign Screens. According to her website, Kristin L. Dowell's book "uses the concept of visual sovereignty to examine the practices, forms, and meanings through which Aboriginal filmmakers tell their individual stories and those of their Aboriginal nations and the intertribal urban communities in which they work." I regret not picking up a copy but do plan on ordering some for the infoshop as the book seems pertinent to work I do with OYBM & Indigenous Action Media.
Princess & I then initiated our ongoing pursuit for comestibles. We were instructed to head towards "Gas Town" – which sounds like the type of place I would generally avoid – nonetheless our curiosity and grumbling stomachs lead the way. If you've ever been there you can't help but revel in the marvel that is the Steam Clock. Apparently there are about 6 steam clocks in the world, and it's quite a wonder really, I imagine its quite an attraction for steam-punkers. After perusing the local fare we decided that this spot didn't suit our fancy (lotsa tourists, super bourgeois, etc). We ended up a ways from Gas Town at a cozy Jamaican spot.
Princess & I ended up walking a few miles in the wrong direction (East Hastings not West!) and then turned around and enjoyed our own street tour of unceded Coast Salish lands.
The show was planned for 11pm but considering it was intended to be an afterparty, lets just say that it was a very late night. I ended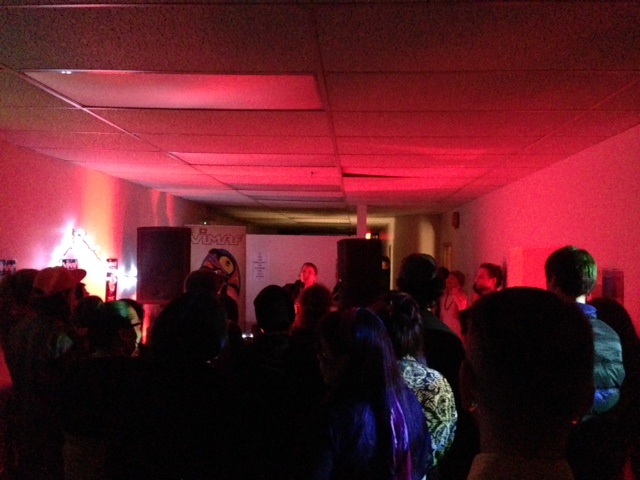 up playing sometime around 1pm. Met some great artists @djAnnashay & Mob Bounce. We didn't really get to enjoy Mob Bounce's set as we were exceptionally tired from the day of travels but what we did hear was great.
[soundcloud url="https://api.soundcloud.com/tracks/119523066″ width="100%" height="166″ iframe="true" /]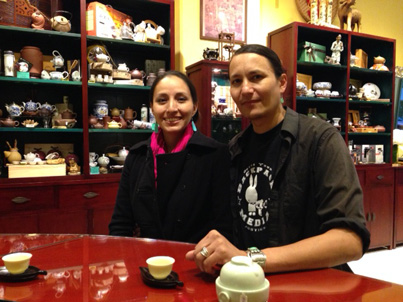 The next day we found a great tea shop (surprise!) called Treasure Green Tea Company right next to where we were staying. Olivia, the owner, offered us a tasting of any teas as soon as we walked in. Since we were in a bit of a hurry to meet a friend we couldn't indulge as much as we would have liked to (we did return later and got some great tea).
We then met up with Zig Zag who is seriously one of the most inspiring Indigenous forces! Zig Zag, aka Gord, has been on the front lines for years promoting "warrior culture, fighting spirit, and resistance movements." Our meeting was cut a bit short as I was asked to be on a panel discussion about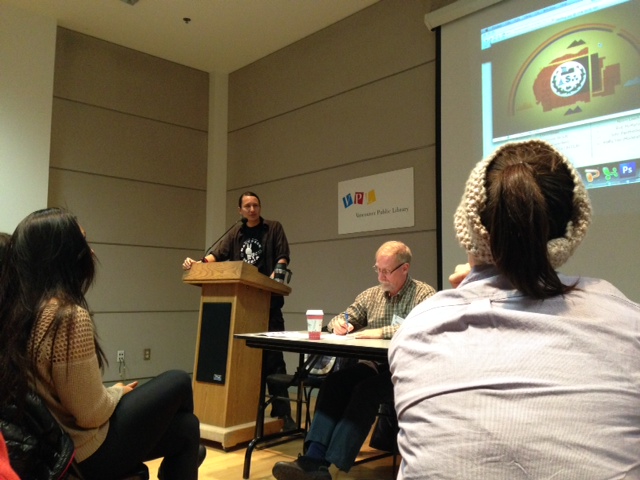 Pipelines, Pundits, and Media Power with Melina Laboucan-Massimo among others. Melina's presentation addressed Tar Sands, it was incredibly intense to hear and see the direct impacts to her community.
That evening I was a guest on a live recording of comedian Ryan McMahon's Red Man Laughing podcast. Let's just say it was quite an entertaining show.
Other than those events I didn't have much more engagement with the Vancouver Indigenous Media Arts Festival (VIMAF). I did manage to catch up with a few friends and discuss various perspectives of Idle No More and the Indigenous Nationhood Movement.
We caught some great Ramen and then hit the VIMAF after-show.
Sunday morning it was off to the Social Spaces Summit at the Purple Thistle, an awesome radical resource center. My presentation was titled, "Táala Hooghan Infoshop: Indigenous established anti-colonial & anti-capitalist radical resource & action center since 2007." I addressed strategies of infoshops, problems with "allyship", creative funding sources, the fetishization of accountability, and tried to explore the intentions and varied issues faced with organizing and holding an anti-colonial space. Overall it was a really great group with some questions that went right to the core of the shit we go through at Táala Hooghan. I really wish I could have had more time at the Social Spaces Summit as it seemed to be a crowd who was really digging in and doing some hard work. Alas, as soon as I was done with the presentation we headed to the airport (thanks Cease!). Nothing good to say about customs and going through the borders except… no borders!
Thanks for reading… lot's more to come.