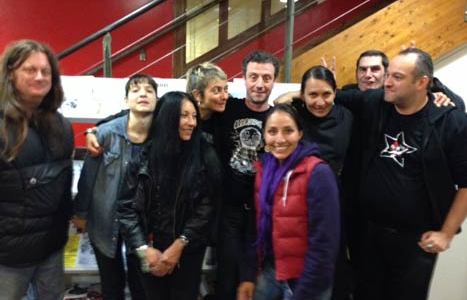 Greetings,
Here are a few pics from tour. I haven't had as much time to do any updates as email access has been a bit sporadic.
The first show was at a small infoshop called "Le Remouleur." They are fighting against gentrification in their neighborhood. The next day I played two sets at a small club that was packed out to the sidewalk. It's always nice to be face to face with an audience. Then we went quickly to a squat for another set. Good fun on tour! Many thanks to Eric for setting up these fun shows. Princess & I did have some time to enjoy the city (not too many tourist sites except Montmartre). We grabbed some great tea and ate a few pastries.
Then two shows at CICP – an awesome building that houses many social justice orgs based in Paris including CSIA, an org established in the 1970's to support Indigenous struggles. The first show was a festival celebrating Indigenous People's solidarity & resistance day. Many presenters from Idle No More KKKanada to Zapatista struggles shared their stories of resistance and liberation. The next day was a show with La Fraction (awesome French punk!) and Gerk.
Then it was off to Prague at 4am. The show was intimate, didn't seem to be much promotion but the theater was beautiful. The sound tech recorded it so I will try to make some of the songs available as soon as I get the files. Misha (ex-Gaia Messiah) joined me on stage
with some awesome shaker action. It was great to connect with some old friends who drove all the way from Germany too. 🙂 Earlier in the day as Princess & I walked the streets of old town I found a cheap guitar… I even got a discount 'cause one of the frets was buzzing a bit too much (a simple fix with a file or hammer).
Oh yeah, a person at the Prague show mentioned that the digital download on this site was still in test mode so it wasnt charging folks, so if you still wish to contribute to my musical endeavors (which by the way also directly funds/supports Peaks resistance and purchase of infoshop/oybm building) you can do so via paypal using this email address: info@indigenousaction.org or through the digital download page.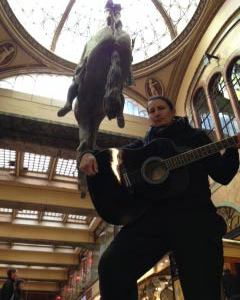 Another early morning flight (6:30am) and I am in an airport in Munich finishing typing this. Looking forward to the next part of the tour starting in Rennes tonight!
Ahe' hee',
Klee