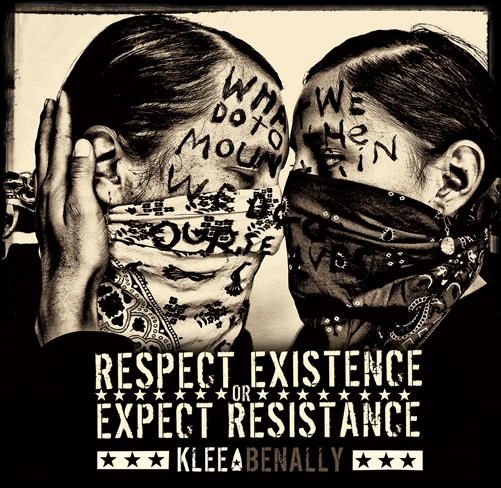 Ya'a'teeh Downloader,
I am offering the digital version of my album on a "pay what you want and/or trade" basis. There is a growing movement of artists that also believe that music & all information should be as freely accessible as possible.
That said, hopefully it's obvious that if hard working independent artists are going to survive and continue to create, their audiences need to step up and directly support them.
If you don't have any funds – take it & share it. If you love it, come back and contribute later when you have the money. If you got some extra funds, consider paying a bit more so someone else is covered. A portion of proceeds from each sale over $5 will go towards Indigenous Action Media or Protect the Peaks efforts. (I am planning on offering the ability for ya'll to decide where the funds go, but for now that'll be up to me.)
What's this about trade?
If you have something interesting to trade like a 'zine, or a story about a community based liberation project/campaign you volunteer with, a cool shirt, patches, poems, your own music,  handmade art, some great tea, etc… send it my way (1704 N. 2nd st Flagstaff, AZ 86004) or bring it to an event. After all, haven't we all experienced enough exploitation (really an act of taking without consent or meaningful exchange) in our lives?
Ahe' hee',
Klee
Consider making a donation to support my art & action:

Thoughts are free. They should remain free, and be given freely.
– www.anticopyright.com
A quick note…
CC is not the same as @nti-copyright yet I promote both here. According to creativecommons.org, "CC licenses are copyright licenses, and depend on the existence of copyright to work." Read below to get a better picture…
The following is from: http://freeculture.org/about/license/
This is a free culture project.
What does this mean?
You are free to:
Use — to make any use of this work, which includes (if relevant) performing it
Study — to examine this work and apply knowledge gained from it
Share — to distribute, copy, and transmit this work, in whole or in part
Remix — to adapt this work and share the changed versions of it
Under these conditions:
Share Alike — If you alter, transform, or build upon this work, you may distribute the resulting work only under the same or compatible license to this one.
Attribution — You must attribute this work with a link (but not in any way that suggests endorsement of you or your use of the work)
Why?
We recognize that private ownership over media, ideas, and technology has deepened the subjugation of already oppressed people by encouraging the concentration and accumulation of control over those resources as well as the systemic appropriation of the work of marginalized people for private gain. We also recognize that the public domain has jointly functioned to contribute to that exploitation, as works in the public domain may be appropriated for use in proprietary works. Therefore, we use copyleft not only to circumvent the monopoly granted by copyright, but also to protect against that appropriation.
Integrity and credit
All of the licenses we use prevent derivative works from implying endorsement to protect against misrepresentation. They also all require attribution to the original publication of the work and clear indication that changes have been made. If you see someone appropriating our work with improperly implied endorsement or without proper attribution, please let us know.
Commercial use
Counter-intuitively, preventing commercial use retains a commercial monopoly on all rights associated with a work. The misleading name confuses many non-commercial projects into thinking this is an appropriate license, but permitting commercial use rejects those monopoly rights while copyleft protects it from being appropriated into a private work.
Cultural appropriation
Adopting ideas, artifacts, practices, and other elements from marginalized cultures is a behavior rooted in a long history of colonialism by which the resources of people of color have been made readily available for poaching. Without the existence of private ownership over ideas, media, and technology, people of color would still suffer greatly from cultural appropriation. We acknowledge that such circumstances would not simply solve the problem and undo colonialism, but without such means to monopolize resources, much of the possible gains from cultural appropriation would be greatly reduced. This increases potential for the creation of spaces attempting to redress harm caused by cultural appropriation.
Some infos:
freeculture.org
anticopyright.com
anti-copyright.org
creativecommons.org
creativecommons.org/choose
en.wikipedia.org/wiki/Pay_what_you_want

"Respect Existence or Expect Resistance" by Klee Benally is licensed under a Creative Commons Attribution-ShareAlike 3.0 Unported License. Copyleft 2013