For Immediate Release
July 26, 2023
Contact:
Klee Benally
indigenousaction@gmail.com
www.burnthefort.com
Announcing Burn the Fort, a Diné Designed Board Game of Indigenous Resistance
Crowdfunding campaign is live on Gamefound
Occupied Kinłani (Flagstaff, AZ) — A new independent board game featuring Indigenous resistance is now crowdfunding to cover manufacturing costs. Burn the Fort is a semi-cooperative game designed by Diné artist, musician, filmmaker, organizer, and author Klee Benally.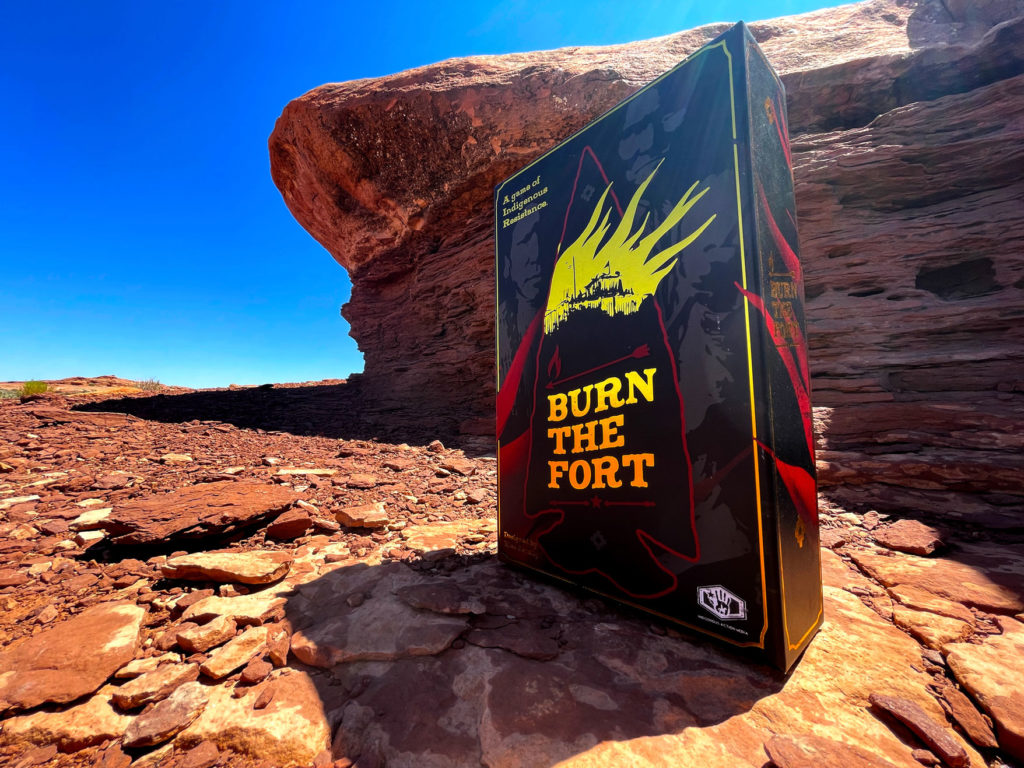 In Burn the Fort, colonizers have built a military fortress and are invading your lands. 2-4 players each take the role of a different historic warrior fighting to stop the invasion. Players must prevent wagons from bringing supplies to the fort and burn it to the ground before the train, which acts as a game timer, reaches the Golden Spike. Players can choose how much they wish to work together while taking turns playing cards, trading, battling wagons, and gathering necessary tokens to win the game. With each wagon that reaches the fort the train moves forward, and if it reaches the Golden Spike everyone loses.
Components and cards are steeped in history with facts, trivia, and bios of historic Indigenous warriors, the game also uses traditional Diné Stick dice.
"I wanted to design a game that felt familiar to those who grew up playing board games, but one that was also familiar to those who grew up playing traditional cultural games," says Klee Benally, the artist and designer of the game, "Some of the game mechanics may feel contradictory and I wanted to embrace that dynamic. It's my first game so I'm sure I've made mistakes, but from the artwork to the gameplay, every aspect of the design is very intentional."
"Games can be powerful storytelling and teaching tools" says Benally. "Indigenous Peoples have played games rooted in ceremony since time immemorial. I've always loved table top games, but I never found one that I personally connected to. Indigenous Peoples and resistance are more often portrayed as threats to the heroic settler colonizers or when we're the occasional protagonist, we are either victims or grossly romanticized" Benally explains.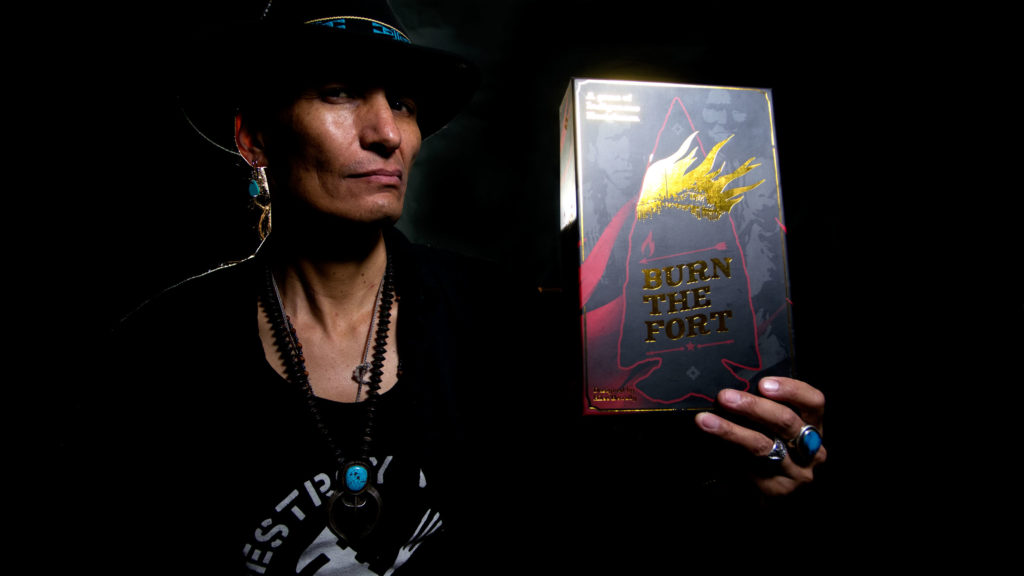 Benally continues, "Nearly every game available on the shelf today is rooted in colonialism and resource exploitation, I wanted to offer an alternative and challenge those narratives. This game focuses on the time period of the so-called 'Indian wars' to explore the history and offer an engaging and fun way of deepening our understandings of those times. History is an ongoing conflict of narratives, the history written by colonizers is obviously going to be very different than the narratives and accounts of those who have resisted colonization. For some people this will be just another table top game, for others, and this is my intention, it can be one small way to engage and build cultures of resistance and liberation".
The game has been in development for six years but Benally took a break during the pandemic to focus on organizing with Kinłani Mutual Aid. 

Benally says, "After the beginning of pandemic, as people were forced to stay at home due to the severity of the virus, there was also a renewed interest in board games. As I was making deliveries and coordinating supplies, I really was motivated to focus on the game as an alternative for people instead of just watching TV. Additionally, I have to express gratitude for this project to Ariel Celeste and Jacob, without their critical input this game would not be what it is. I am also forever grateful to my supporters on Patreon and all the play testers who made this game possible."
Burn the Fort is now on Gamefound, a premiere crowdfunding site for board games, where 70% of its goal was raised in just three days. If the campaign reaches its "stretch goal," Benally will use additional funds to distribute free copies to Indigenous community groups and schools. Eventually Benally intends to create a complementary lesson plan exploring the theme of the game that can be taught in schools.
Burn the Fort is now available as a crowdfunding reward for a pledge of $40. The crowdfunding campaign ends on August 22nd, 2023. After the crowdfunding campaign is complete it will be available sometime in the fall online and in select stores at a retail price of $45. You can view and support the campaign here: https://gamefound.com/projects/indigenousaction/burn-the-fort
Burn the Fort is for 2 – 4 players, ages 14 and older and takes approximately 60-90 minutes to play. It includes 5 game board pieces, 6 player cards, 1 Fort point tracker, 69 Draw cards, 40 Colonizer cards, 6 Victory cards, 5 US General tokens, 4 Reference cards, 48 Fire tokens, 40 Wagon tokens, 12 Arrowhead tokens, 4 Alliance tokens, 1 Colonizer token, 1 Wooden train token, 1 Arrowhead token bag, 3 Wooden Stick dice, 2 Colonizer dice, and 1 twenty-two page game guide.
For more information visit: www.burnthefort.com.

About the publisher
Indigenous Action (IA/originally Indigenous Action Media) was founded on August 25th, 2001 to provide strategic communications and direct action support for Indigenous sacred lands defense. We are a radical autonomous crew of anti-colonial & anti-capitalist Indigenous media makers, designers, artists, writers & agitators that work together on a project by project basis for liberation for Mother Earth and all her beings. www.indigenousaction.org